Our policy
• We takes advantage of Traditional Japanese indigo "Kamedajima (Kameda-stripes)" fabric to make clothes and work clothes that women wear on a daily basis.
•Universal and basic clothing that never gets boring no matter how many times they are worn.
•A traditional design expressing the nostalgia of olden-day Japan.
•Working-wear that prioritize activewear.
•By joining at least 2 kinds of Japanese traditional indigo "Kamedajima (Kameda-stripes)" fabrics, we prioritize using bicolor wear.

Sometimes our clothes are combined with hand embroidery, traditional Asian fabrics, floral patterns and polka-dot prints to express an exotic Asian style.

 Our ladies wear are a combination of several Asian countries' handcrafted cloths, such as Vietnamese Hmong's old cloth, Indonesian Batik, Taiwanese flower cloth and Burmese Longyi, European linen is also used.

Local elderly women and the handicapped are recruited to handcraft unique and original embroidery.
We offer you modern everyday wear using Japanese fabric, "Kamedajima" of Niigata, Japan.
Our concept is "The active wear that respects the olden day Japanese life".
Our clothes are comfortable and beautiful everyday lady's wear that are not influenced by the times and trends.
Our clothes will never go out of style and are therefore, ageless and gender less.

Our design is from working clothes and traditional costumes of the old life.
Universal life of human beings – It is perfectly useful for household chores such as cooking, washing, gardening and farm work.
You can also be active in the mountains!
Using the excellent Japanese cotton material, you can spend a comfortable time in your house while also going outside for walking or shopping.

Most of our clothes are comfortable and oversize.
You will feel the natural air when wearing our clothes and you will unite perfectly nature.
Our clothes are beautiful unisex wear that makes everyone look good.
 
The best suitable fabric,  traditional Japanese indigo "Kamedajima" (Kameda-stripes), is a durable and simple cotton from Niigata Prefecture.
In the old days, Japanese people used to cultivate fields and grew crops to earn a living.
The striped traditional Japanese indigo "Kamedajima" (Kameda-stripes) fabric helped the farmers who were forced to work hard all year round.

High quality and durable traditional Japanese indigo "Kamedajima" (Kameda-stripes) is the most suitable material for long-lasting and simple wear.
Traditional Japanese indigo "Kamedajima" (Kameda-stripes) is 100% cotton, as the most important part of your clothing is the comfort it provides for your skin.

No static electricity – Stress free.

Once traditional Japanese indigo "Kamedajima" (Kameda-stripes) cloths are finalized, we wash them to bring out a natural sun-dried look.
From day one, our clothes have the comfort of well-worn denim.

"Kamedajima" is traditional Japanese indigo , like a denim, a simple basic fabric that you can wear for a long time.
Traditional Japanese indigo "Kamedajima" (Kameda-stripes) is suitable for everyone, regardless of age or gender.
"NAKAEI Weaving Company " indigo materials are woven with a loom using 4000 vertical strands of yarn.
In every ten vertical strands of yarn, one strand features a coarse texture which provides relieving comfort for the wearer of Kameda-stripes clothing in high humidity weather.
The airtight fabric also creates warmth in colder, winter weather.

The remarkable effect is its function:
Our indigo clothes do not slip down when you fold the sleeves or hems, even if you move actively.
The heavy weight and firmness of the cotton material helps detail the clothes beautifully.

Japanese traditional indigo "Kamedajima" (Kameda-stripes) clothes suit everyone, with a base color choice of either navy, black or grey matched with one or two additional colors.
Traditional indigo "Kamedajima" (Kameda-stripes) clothes are easily paired with other clothes in your closet. 
Japanese indigo "Kamedajima" (Kameda-stripes)  clothes are truly a unique and mysterious fabric.
Our expert tailors accentuate the uniqueness and the splendid features of "Kamedajima" (Kameda-stripes)fabric.
Our tailors produce works of great value.

Our clothing is crafted with precise skill;
■stripes are neatly sewed and combined so that uneven patterning is invisible, even inside pockets.
■Fine darts and neat stitching make our clothes appear seamless, as if they are one piece of cloth.
■We pay attentive care to our sewing process, which results in pleasant and long-lasting clothes.
■Our prides itself in partnering up with high-ranked and trusted tailors .
■Our products are created by "Kamedajima" (Kameda-stripes) fabric produced by the Nakaei Weaving Company.
These products are born by using the techniques of orthodox tailors.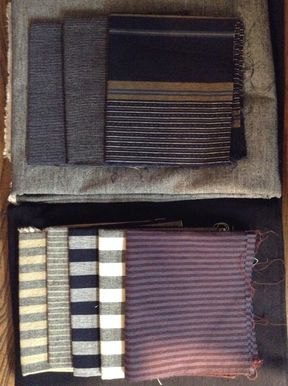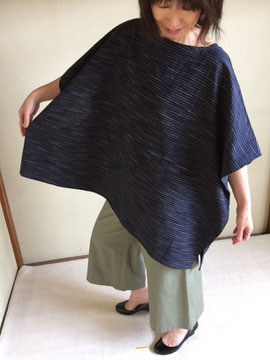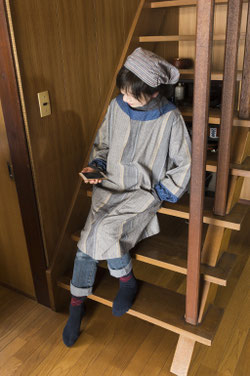 Our items are designed in Japan using mysterious and oriental designs.
The bi-color cloth is a standard that incorporates two or more traditional Japanese indigo "Kamedajima" (Kameda-stripes) wear.

You can purchase from here. →contact
When ordering more than 10 clothing items (the same product item), you are free to choose your favorite  traditional Japanese indigo "Kamedajima" fabric.
Please enjoy more unique items and original products! 
Feel free to make any inquiries.











You can buy this quality from just one piece.  
Please select a product from here. →product

And please contact us from here →contact
We send them from Japan .
Niigata prefecture is the largest producer of rice in Japan.
Its climate is very extreme, with heavy snowfall in winter and very humid and hot weather in summer.
In Niigata, farmers undergo harsh conditions to weed and mow rice fields in water-filled fields.
Once, the famous Japanese author, Ryotaro Shiba mentioned that "In certain regions of Japan, the agricultural workers work themselves desperately to the point of exhaustion", in his essay "The Country Roads of Niigata" from his book "Going on the Highway".

Pure Indigo blue Ai-zome" (Kameda-stripes) was born in the harsh farming conditions as a strong fabric to help the farmers who endured the severe climate in Niigata.
Kameda-stripes is an airy and light, breathable material made to withstand the harshest conditions of the climate in Niigata.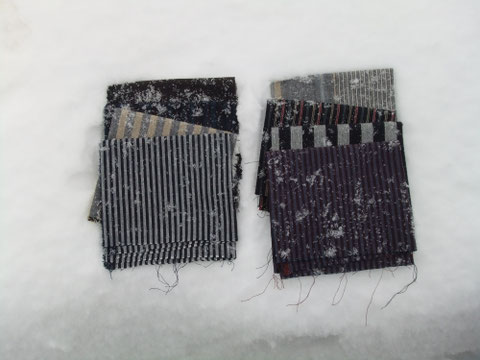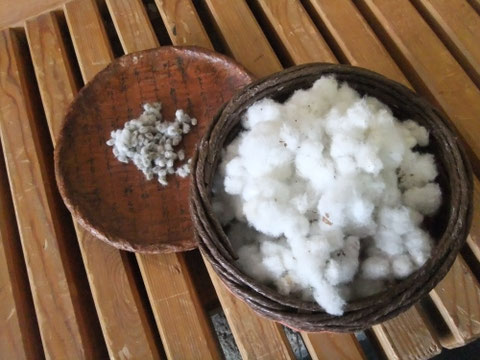 "Kamedajima" is like a Japanese denim, fabricated from a very strong cotton fabric with a typical navy color that is taken from pure Indigo dye.
"Kamedajima" has a history of over 300 years, beginning in 1696.
In the past, Niigata was called "Japan's northernmost cotton producing region".

The touch of Kameda-stripes will be changed to more comfortable as you wear, a simple and beautiful stripes pattern.
Made from 100% natural cotton, Kameda-stripes wear are made to shut out static electricity and to ensure a comfortable fit.
The longer you wear our clothes, the more comfortable they become.
The warp is made of 4,000 vertical strands of yarn and in every ten vertical strands of yarn, one strand features a coarse texture.
The unevenness from the coarse strands allows the material to be breathable, and comfortable to the touch.
Japanese indigo blue "Kamedajima" (Kameda-stripes) is a natural cotton fabric that is washed once during its production to produce a natural sun-dried look and the comfort of well-worn denim.
At first, our traditional indigo  "Kamedajima" (Kameda-stripes) clothes are firm and thick to the touch, as our fabrics are woven to reproduce the "olden-day work clothes" of Japan's farmers.
Our clothes are unlike soft new towels but are similar to denim.
However, with every wear and wash our clothes take on a new texture similar to soft linen.
After several years, you will realize that your  cotton indigo "Kamedajima" (Kameda-stripes) clothes have transformed from a denim-like strong material to a fine soft fabric.
In this moment, you will discover the true comfort of our clothes.
You will notice that Japanese traditional indigo clothes are completely different from any other fabrics at first touch.
Understanding the meaning of our clothes does not come from numerical or scientific values, but from the feeling that they bring at first touch.
At the touch of "Kamedajima" (Kameda-stripes) clothing, your hand and heart will feel the nostalgia and relaxation.
Among the many fabrics in the world,  traditional Japanese indigo is the only fabric that features this special experience.
In the past, cotton was hand-spun from cotton and used to make yarn.
In order to reproduce this quality and texture in our work today, a coarse strand of yarn is woven carefully into every ten vertical strands of yarn of the warp (about 4,000 vertical strands of yarn).

The hand-spun style of yarn with knots makes a breathable fabric that remains cool in the summer and warm in the winter. For example, if you wear a hat in the summer, your hair becomes sweaty and scrunched.
This may lead to a situation where you cannot take off your hat.
However, our hats made from Japanese indigo stripes Kameda-striped are always comfortable, even in the hot and humid summers.
The breathable quality of our fabric reduces sweat and helps maintain your hairstyle - even when you take your hat off.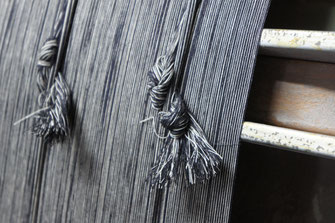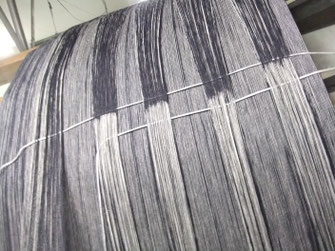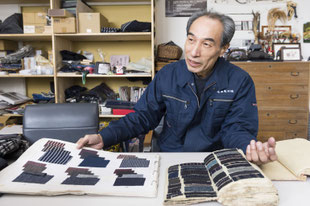 Our Japanese traditional cotton fabric "Kamedajima" wear feature plain colors that are inspired by earthly tones such as black, dark red, grey, and navy.
We create our stripes by combining one or two other colors together.
Japanese people have been wearing simple colored clothes inspired from the different seasons, and different seasonal plants' colors from ancient times.

Each color and pattern bring about a harmonious combination.
"Kamedajima"  is a cotton fabric that reflects the relaxation and peace of each season and is filled with the feelings of affection that the Japanese have shown towards Japanese traditional indigo stripes "Kamedajima" for many years.
The pattern of stripes is simple, but we design our ladies wear in precise detail.
We have 100 kinds of striped pattern and color variations that are very popular amongst Japanese people for their delicate and detailed designs.
"Kasuri", one popular design, is a fabric that has been woven with fibers dyed in white specifically to create patterns in the fabric.
The patterns are characterized by a blurred or brushed appearance.
"Chidimi", also known as shrinkage, is another popular design.
The thin fabric that is created is suitable for hot and muggy weather in Japan.
The variety of stripes and gradient patterns create an interesting, modern twist to Japanese indigo blue "Kamedajima" fabrics.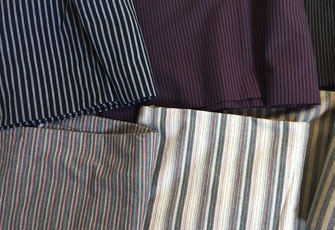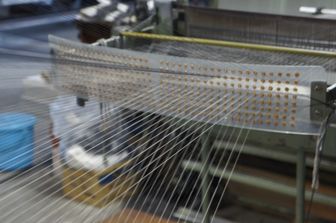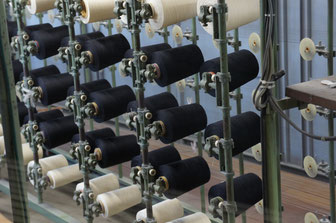 In the Edo Era (18th century), stripes were in fashion.
Everyone in Japan, such as Kabuki actors, merchants, and farmers, wore stripes - Which is demonstrated in the cultural scene "Ukiyoe" (A Japanese painting from the Edo period).
In Japan, vertical stripes are called "Kissho-gara" (lucky pattern) and are a symbol of Eternal happiness.
Japanese people love this pattern as it is very auspicious.
Japanese traditional stripes will be loved as a simple pattern forever.

The stylish people of the Edo period like to wear multiple stripes and checker patterns on their clothing such as on the Haori (jacket), Kimono (dress), Han-Eri (collar) and Obi (belt).
The people of the Edo period also enjoyed being fashionable by combining a base color of navy mixed with blues, blacks, browns, grays and flower patterns.
This is a Japanese fashionable style called "Iki".

One type of Kameda-stripes fabric has tension applied to its strands of yarn, creating an unevenness which shrinks the material.

The way of combining Kameda-stripes materials is developing.
Coordinated striped patterns with different materials are chic and are fashionable.
Now Traditional Japanese blue striped "Kamedajima" (Kameda-stripes) now have 100% cotton, added with hemp, thin fabrics, and gauze.
Although the varieties of "Kamedajima" (Kameda-stripes) materials have expanded, the history and origin of the material have not changed.
Regardless of the different types of material, all traditional Japanse ese indigo  clothes suit each other.
This is because all the base yarn of "Kameda-striped" is made with Japanese indigo blue dyed yarn.
It is a Japanese-style tenderness and detailed plan for women coordinating with "Kameda-striped".

Stripes are a symbol of happiness
In Japan, patterns and marks of happiness have existed since ancient times.
Vertical stripes are called "Kissho" (lucky pattern) and are considered to be a happy symbol in Japan since a stripe never ends and lasts forever.
The "Kissho-gara" pattern is used especially in weddings and is also used to celebrate new births.
The most fashionable way to wear stripes is in layers.

Producing a harmony between worn-out fabrics and "MOTTAINAI", the spirit of Japan
In olden-day Japan, family members would wear the same work clothes sewn from one pattern of cloth.
They would repair their work clothes with patches of other cloths as to not waste any materials, making them their own unique clothes.
This Japanese "MOTTANINAI" spirit discouraging wastefulness has become a part of modern clothing.
Old patched cloths with Japanese indigo "Kamedajima" (Kameda-stripes) have become very popular among foreigners.
The typical color of Kameda-stripes is navy.
Its color is similar to that of kendo and judo uniforms, or denim jeans.
In the past, Kameda-stripes was dyed with a natural indigo dye called "Aizome".
This natural dye was very useful for farmers, since it contained anti-pest ingredients.
Previously, natural Indigo dye was imported from other parts of Asia, such as China, and developed in Japan.
Nowadays, "Aizome" is called "JAPAN BLUE" for its fame, beauty, and high quality.
In Japan, "Aizome" appears in many traditional sports scenes involving items such as Kendo wear, hand towels, and more.
"Aizome" has also been used for personal accessories such as daily bags.
Although the "Aizome" technique was often used in old-day Niigata, the craftsmen of the "Aizome" technique no longer occupy the "Kamedajima" industry.
In 2002, Japanese traditional indigo "Kamedajima" was revived after 50 years for the first time.
We chose to use pure Indigo dye which pre-dyes threads.
Aizome is a dye which is extracted from natural plants, while in contrast, pure Indigo is a chemical dye which is quite similar to Aizome.
Pure Indigo dye is very useful as it is easy to dye and it maintains a stable color, which is its most attractive point.
Today, "Kamedajima" (Kameda-stripes) use indigo dyeing,and
they are made to last in their best condition.
We are here to ensure that you will enjoy our products.
Let me help you make your own traditional Japanese indigo clothing.
We are here to ensure that you will enjoy our products.
→ Please more detail here(product)